We're thrilled to announce that Blake Bertuccelli-Booth, the original founder of Decubing, is returning to retake the helm as Owner. Blake brings a wealth of expertise in product and technology development, and his renewed focus will be on developing new products that improve everyone's access to web information.
A Passionate Technologist and Community Builder
Blake is an outcome-oriented community builder and technologist who passionately promotes equitable access to information. His dedication to creating an inclusive digital landscape is evident in his founding of Equalify, an open-source web accessibility platform that has made significant strides in bridging the digital divide.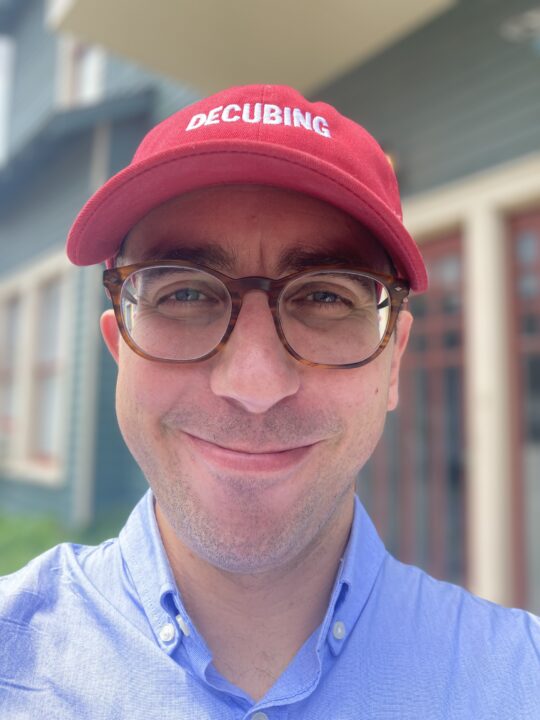 Blake's rich leadership experience includes roles as CEO and Co-Founder of Edupack Inc., Owner and Founder of Decubing Web Services, and Co-Owner of The Blue House. His technical prowess in front-end design and development, UX design, and web workforce management has made him an invaluable asset to high-profile clients such as Madison Square Garden, New York University, and Tulane University.
In addition to his professional pursuits, Blake's commitment to community uplift is marked by his service as Chair of WPCampus and mentorship of at-risk youth through the Youth Empowerment Project Design Works.
Decubing: Excellence in Web Solutions
Decubing, established by Blake in 2016, is a full-service web development and design agency. We've delivered top-notch web solutions to hundreds of clients, including New Orleans & Co., Tulane University, Madison Square Garden, and The City of New Orleans.
Our expertise encompasses a broad spectrum of web-related services, from front-end design and development to UX design and web workforce management. We're proficient in numerous programming languages and technologies, including PHP, HTML, XML, JSON, JavaScript, jQuery, Node, Vue, Electron, MySQL, MongoDB, CSS, and SCSS. We also offer WordPress theme, plugin, and API development, git workflow design, GitHub / BitBucket integration, adherence to 508 and W3C standards, LAMP Administration, Cloud Administration, unit and integration testing, DevOps, predictive analytics, search, A/B testing, and AdWords optimization.
A Renewed Focus on Accessibility
With Blake back at the helm, Decubing is set to enhance its focus on website accessibility, furthering our commitment to creating an inclusive digital landscape. Blake's passion for equitable access to information will help Decubing introduce new products and services to advance accessibility across all web platforms.